Boat Ride and Bird Watching
Trail Riding Adventure Tour
Boat Ride and Bird Watching Details
If you are visiting Medellín and looking for an extreme adventure that includes jaw-dropping scenery, a boat ride, bird-watching, & trail riding adventure tour, then look no further than booking this tour. Boat ride along Cauca River heading north towards nature reserve.
Starting with a 6:00 am pick-up at your hotel, we will drive west of Medellín towards Santa Fe de Antioquia, detour towards Sopetrán, and stop for a traditional Colombian breakfast a bit further north in the small town of Olaya. This quaint town northwest of Medellín with less than 3,000 inhabitants is one of the oldest towns in Antioquia and has a beautiful church that dates back to 1,614.
Soon after departing from Olaya, we will leave the paved road behind, drive across a creek in our 4-wheel drive vehicle, and head north on a dirt road along the Cauca River for almost 6 miles to where our boat guys will be waiting for us.
After a 30-minute boat ride, we will arrive at what used to be the Finca La Luna for some or Hacienda Mamoncillo for others and meet our horse expert.  The horse ride from the river through varied terrain to the Macaw Canyon takes about 1 hour. This site provides one of the most important habitats for the Ara Militaris macaw and LandVenture Travel has made important efforts toward its conservation.
After visiting the macaw bird-watching site, and taking some National Geographic-style photos, we will head towards the ruins of the old hacienda and have our traditional lunch wrapped under the shade of a big mamoncillo tree (Melicoccus bijugatus).
Soon after our meal, we will get back on our horses, head back to the Cauca River, sail back to where we parked and make our return to Medellín with a great adventure behind us.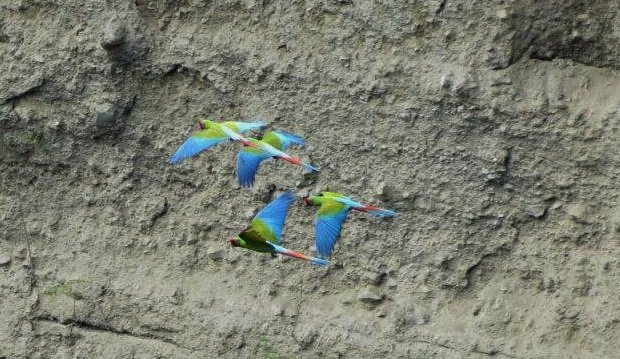 Boat Ride and Bird Watching Includes:
Additional information Boat Ride and Bird Watching
- 1 person (All Ages):

$295 USD

- Group of 2 People (All Ages):

$155 USD

Price per person

- Group of 3 People (All Ages):

$109 USD

Price per person

- Group of 4-5 People (All Ages):

$89 USD

Price per person
Before you book
Please note that this full-day tour requires a 6:00 am pick-up at your hotel in Medellín, a 2.5-hour drive each way, a 6.5-mile
boat ride along the Cauca River, and involves riding horses for between 3 and 4 hours through challenging terrain.
If any of this is not exactly the type of adventure you're interested in, we will be glad to offer you a different tour
that might suit your interests better.
We can also take payment in cash in Colombian pesos COP at the official exchange rate on the day of the tour.
As of June 2023, 1$ USD = $4,150 COP approx.
More Tours by LandVenture Travel
For last minute requests to this Boat Ride and Bird Watching more ways to customize and combine this experience with other tours out of Medellín, please send us a text message through WhatsApp or email us and let us know which dates would work for you, how many more people are traveling with you and where would you like to be picked up.
We will try to answer you within 24 hours of receiving your message.