Medellín Santa Fe de Antioquia Tour
Santa Fe de Antioquia Tour Details
Enjoy Colonial Santafe de Antioquia departing from Medellín.

During this Santa Fe de Antioquia tour out of Medellin, enjoy beautiful colonial architecture and breathtaking scenery along the way. With the new road, the drive takes just over an hour while traveling in the comfort of this private tour to Santa Fe de Antioquia.

Founded in 1541, the first capital of the Department of Antioquia, this well-preserved town has kept its historic architecture and charm. Upon arrival, we will walk around the cobblestone streets while learning about the history of the colonial town. We will then visit the Puente de Occidente, an impressive hanging bridge built in 1895 over the Cauca River.
If you are feeling more adventurous, we can offer the option of horseback riding in the nearby area at an additional cost.
Santa Fe de Antioquia Tour Includes:
- 1 person (All Ages):

$199 USD

- Group of 2 People (All Ages):

$105 USD

Price per person

- Group of 3 People (All Ages):

$69 USD

Price per person

- Group of 4-9 People (All Ages):

$65 USD

Price per person

- Group of 10-14 People (All Ages):

$59 USD

Price per person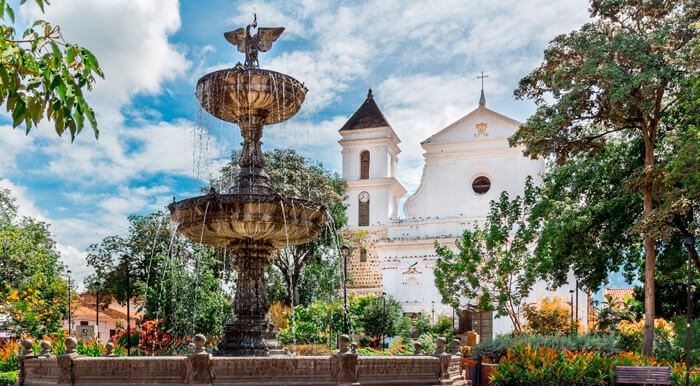 *Additional charges may apply for pick-ups or drop-offs outside the Poblado area.
 As of June 2023, 1$ USD = $4,143 COP approx.
More Tours by LandVenture Travel
For last minute requests to this Medellín Santa Fe de Antioquia Tour more ways to customize and combine this experience with other tours out of Medellín, please send us a text message through WhatsApp or email us and let us know which dates would work for you, how many more people are traveling with you and where would you like to be picked up.
We will try to answer you within 24 hours of receiving your message.