Why miss out on beautiful landscapes when LandVenture Travel can take you through the most scenic route between Medellin and Guatapé?
During this Medellín Guatapé Tour, we will take you there but without missing out on driving through one of the most exclusive areas of Medellin´s eastern suburbs.  Join us on our tour to visit one of the most unique pueblos in Colombia, and enjoy the drive between Medellin and Guatapé.
Enjoy colorful farmland in the proximity of El Peñol as a mouth-opener to the wonderful views that you will get from the Rock. Climbing the 700+ stairs to the top of the 220-meter high rock offers 360-degree breathtaking views of the surrounding areas. 
But if you're not into climbing stairs, we can spend extra time exploring the colorfully painted facades (zócalos) of Guatapé's houses and walking along the waterfront in town.
As an optional activity and at an additional cost, we can include a boat ride around the lake in your Guatapé Tour package, which takes us past the vacation houses of famous and infamous Colombian celebrities.
And if you would like to add an optional horse ride on the way back to Medellín, just let us know so we can make the necessary arrangements.
- 1 person (All Ages):

$189 USD

- Group of 2 People (All Ages):

$105 USD

Price per person

- Group of 3 People (All Ages):

$69 USD

Price per person

- Group of 4-9 People (All Ages):

$65 USD

Price per person

- Group of 10-14 People (All Ages):

$59 USD

Price per person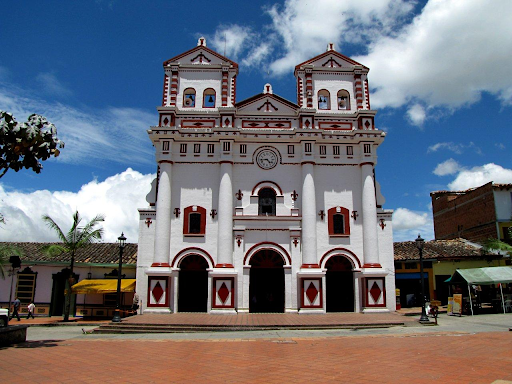 As of June 2023, 1$ USD = $4,140 COP approx.
A private boat ride from Guatapé Waterfront
to Old Peñol Replica area:
Scenic horse ride: A 1-2 hour horse ride in a beautiful area on the way back to Medellín. No riding experience is necessary.
A brief visit to a coffee plantation to learn about the coffee process
during the Guatapé Tour in detail:
Free transfer to Medellin airport:
More Tours by LandVenture Travel
For last minute requests to this Guatapé Tour more ways to customize and combine this experience with other tours out of Medellín, please send us a text message through WhatsApp or email us and let us know which dates would work for you, how many more people are traveling with you and where would you like to be picked up.
We will try to answer you within 24 hours of receiving your message.