Waterfall Hiking Tour Medellin
Waterfall Hiking Tour, Medellín Details
If you're a nature lover and wondering about things to do while in Medellín, this half-day waterfall hiking tour to Las Campanas Waterfall, right on the outskirts of Medellín, will be a perfect fit. This is a moderate hike that can be customized to a longer, yet tougher hike upon request.
 
After arrival at the village of Arenales, the hiking usually takes between 3 and 4 hours, depending on the pace of the participants. This river hike requires wading through the water as you crisscross the ravine numerous times on the way to the waterfall.
With pick-up at 7:30 am at your hotel in Medellín and after a 30-40 minute drive southeast towards the mountains of Envigado and Sabaneta, we will arrive in the village of Arenales. There's a fruit stand right at the beginning of our hike in case you would like a "fresh fruit" start.
In the beginning, we will walk through a dirt road that eventually turns into a trail that will lead us to the riverbed. At La Miel creek, the fun begins and we will cross the creek numerous times, and even do some brief rock-climbing as we make our way to the waterfall. Upon reaching the waterfall, there will be time for a brief cold dip, forever-lasting memories/photos, or just enjoying the soothing sights, sounds, and effects that will help you relax and de-stress in today's busy world.
By the way, the negative oxygen ions generated by the crashing water can produce an incredibly positive effect on you. Breathing them in is like recharging your own batteries and recovering from the toxic environment of urban life. It's no secret that city life and your cell phone raid you with positive ions all day long. However, positively charged oxygen ions actually have a negative effect on you and wear you down. Another great reason to join us on this amazing waterfall hike experience while visiting Medellín!
Optional: The hike can be extended into a loop hike that would add around two more hours of hiking but would require a much higher fitness level. If you would prefer the longer hike, please let us know before the actual tour date.

On the way back to Arenales, we will enjoy a delicious traditional arepa and try some other local delicacies before making it back to the car.
The place is a protected area that preserves diverse species of native plants and trees, endemic birds, and even mammals such as the puma and the ocelot. The terrain is quite sloping, with ups and downs on trails, slippery rocks, and places where it's necessary to wade through the creek from one side to the other.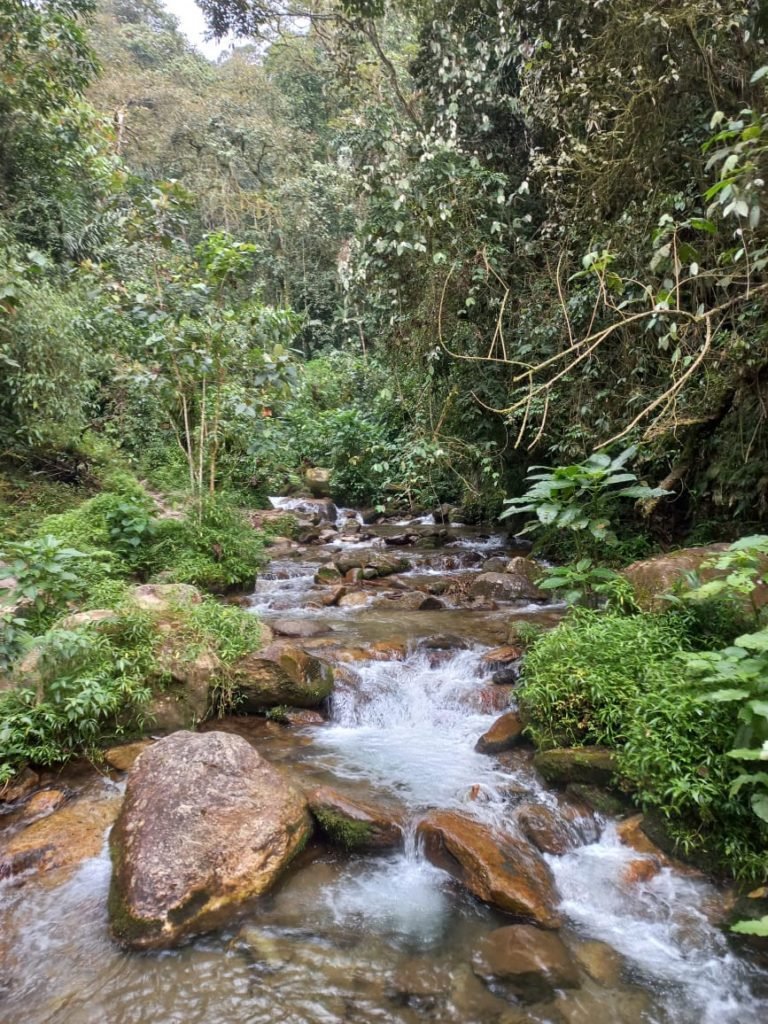 Waterfall Hiking Tour Includes:
Additional information Waterfall Hiking Tour
Las Campanas Waterfall Hike Specs:
We can also take payment in cash in Colombian pesos COP at the official exchange rate on the day of the tour.
As of June 2023, 1$ USD = $4,144 COP approx.
More Tours by LandVenture Travel
For last minute requests to this Waterfall Hiking Tour, Medellín more ways to customize and combine this experience with other tours out of Medellín, please send us a text message through WhatsApp or email us and let us know which dates would work for you, how many more people are traveling with you and where would you like to be picked up.
We will try to answer you within 24 hours of receiving your message.